One of the themes our team heard from 2015 Gartner IAM Summit  attendees was their growing need for IAM strategy and roadmap planning.
Identity is key in the fight to protect large enterprises from the growing sophistication of cyber attacks and threats. Building a stronger Identity and Access Management security posture is an ongoing process with many different aspects to be considered and improved.
Today PathMaker Group is announcing a new tool called the IAM Maturity Advisory Program ("IAM MAP") to help our customers with the advancement of their IAM programs.
Central to the IAM MAP process is a benchmark called the '8 Levers of IAM Maturity' in an enterprise and it contains the 80 most important measures that a leader should look at to evaluate the progress of the IAM program. By knowing where you are from poor to best in each lever at the strategic level, and each of the 80 measures at the tactical level, you can prioritize performance improvement and drive maturity up. The result is stronger overall security for your organization.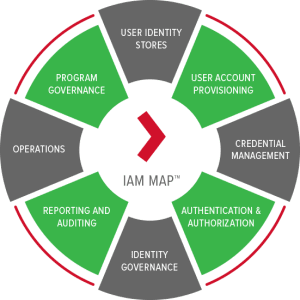 The best practice measures are derived from our 13+ years advancing IAM for a diverse group of companies and industries across the US combined with the 50+ years of experience from the best IAM architects and leaders in the industry.
The IAM MAP is a short, value packed process that provides a comprehensive orientation to all the ways you can improve your Identity and Access Management program. It is entirely focused on your people, processes, environment and technologies supporting Identity and Access Management. As a process it is an expert led management level workshop, conducted over one day, using a methodology called the '8 Levers of IAM Maturity", supported by a unique online performance benchmarking tool. Be assured, you will walk out of the process with your big questions answered and an action plan for achieving real progress.
PathMaker Group is excited about the value this tool will bring to help bring perspective to a complex subset of the security landscape. This process will be a key aspect of our client relationships providing baseline metrics with annual re-scoring to show progress and to support strategic planning.
For our current customers, look for us to begin scheduling your IAM MAP session in the coming weeks. If you're not yet a PathMaker Group customer and you're interested in the value this provides, we would be happy to discuss the process with you in more detail.